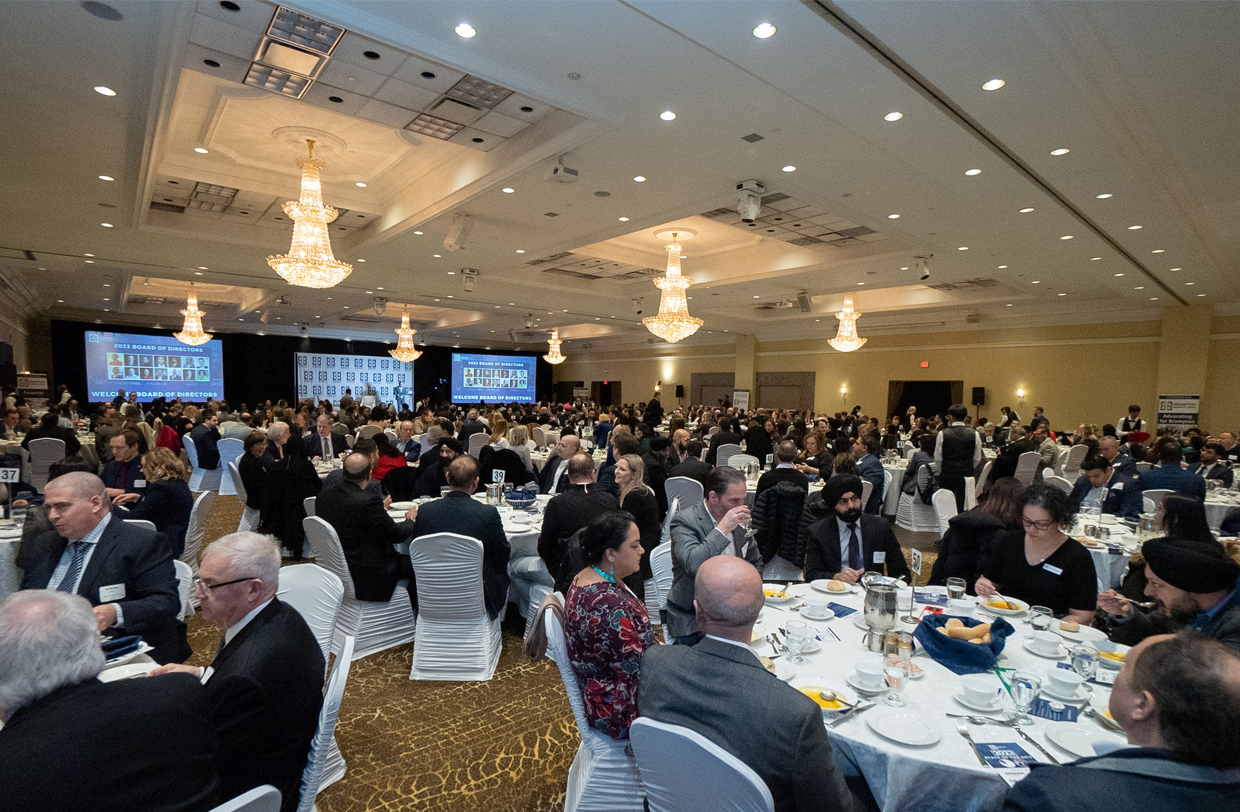 State of the City 2024
Brampton's business community meets annually to hear from two important community leaders, the City's Mayor and the Chair of the Brampton Board of Trade. Mayor Brown and BBOT Chair Louis Vouloukos will share perspectives on Brampton's future from both a public sector and private sector point of view. We will also show appreciation to Peel Region's Finest in awarding the Peel Region Police Service Award.
The event will offer networking opportunities, and registrants will be able to engage with each other & the speakers.  This is a great development opportunity – invite your clients and colleagues by purchasing a table.
The 2023 recipient of the Peel Region Police Service Award is Constable Sherpaul Gill #4314.
Cst. Gill #4314 was born and raised in the Region of Peel.  He was hired by Peel Regional Police in August 2018, where he spent the first three years of his career in uniform patrol at 21 Division.  In February 2022, Cst. Gill became the Community Liaison Officer for 21 Division where he has quickly established himself as a very conscientious officer who is passionate about helping the community which he serves.
Cst. Gill speaks both Punjabi and Hindi, which are two of the most common languages spoken within the community.  Being a South Asian officer who practices the Sikh faith, he is able to represent a large portion of the community in his duties as a police officer.  Having this background enables Cst. Gill to relate to many of the life and cultural experiences of community members.
Having being raised in this community, Cst. Gill has a vested interest in seeing issues being resolved quickly and appropriately, which helps form positive relationships between the police and community members.
Cst. Gill is well suited for his role as the Community Liaison Officer at 21 Division and he continues to work with the community to resolve issues and foster positive relations.
As mentioned, Cst. Gill is a very conscientious officer who is well suited for his role as the Community Liaison Officer at 21 Division as he is very passionate about helping the community he serves.
Sherpaul has also been recognized by the Sewa Meals for Humanity (a non-profit organization providing free meals to those in need) for his significant contributions and achievements; including fostering and building relationships with stakeholders (food banks/stores), being a mentor, coach and confidante to many of the other young volunteers and showing outstanding commitment and community support.
Over the past year, Cst. Gill has actively searched out and volunteered for various community/police  events including food drives, cram-a-cruiser, clothing drives, Toys-4-Tots, Tim Horton's Camp Day, back-pack for kids, 21 Division community fun day, town hall meetings, Divisional tours for youths, and assisting with the Youth In Policing Initiative (YIPI)program.
With the cram-a-cruiser events alone, Cst. Gill helped raise hundreds of pounds of food for the food banks in Brampton during the pandemic when families were most in need.
Cst. Gill helped arrange a Divisional tour for a group of 7 autistic students.  This provided the students a unique and exciting learning opportunity which was greatly appreciated by the parents and school staff.
Cst. Gill is also very passionate about the Community Safety and Well Being (CSWB) framework and is actively involved in hub meetings where discussions are held regarding trends and community complaint areas.  From these meetings, Cst. Gill introduced the Punjabi Community Health Services and Peel Housing and created a pilot program where arrested parties, suffering from addiction, are offered resources upon release to assist them with their addiction.  These referrals go directly to community partners on behalf of the individual.
Cst. Gill is known as an individual who goes on tirelessly to ensure his priority in helping youth strive within the region of Peel by holding impactful roles/volunteering his time within Peel Regional Police and other organizations and committees – PCLC –Police Community Liaison Committee (Chair), 21 Division Community Safety and Wellbeing Hub (Co-Chair), Hoops Against Hunger (Secretary), Sewa Meals for Humanity (Organiser), etc.  In these roles, Cst. Gill has brought forward initiatives to address addiction and mental health within the community.
2023 Recipient of the Peel Region Police Service Award
Constable Sherpaul Gill #4314