Regional/Local Issue Advocacy
The Brampton Board of Trade is actively representing business issues at City Hall, Region of Peel and all along Canada's Innovation Corridor.
Running your business today is tough. The Brampton Board of Trade has your back. Every day we hear from businesses that are overburdened by government regulations and other challenges. Smart businesses support the Board of Trade for our solutions-oriented impact that helps you to stay focused on your business while we work behind the scenes.
Get There on Time
Accelerate planning on higher-order transit and other transportation infrastructure investment.
Demystify City Hall
Help businesses to better understand the budgeting process and its impact on them.
Inter-Regional Connectivity
Advocate for Two Way All Day GO service between Brampton, Toronto and Kitchener-Waterloo.
More PSE
Work with community partners to widen scope of post-secondary educational offerings and retain youth.
I Love Brampton
Work with community partners to boost lifestyle amenities and the external image of Brampton.
Municipal Budget
Each year, the Brampton Board of Trade follows the City of Brampton's budget process and makes recommendations to staff and Council.
Main St. LRT
It's hard to think of a decision that will have a longer-lasting and more pronounced impact on Brampton's downtown core than the Main St Light Rail Transit (LRT) project that the City is currently considering. The system would be an extension of Metrolinx's Hurontario LRT that begins in Port Credit, continues north and, as currently designed, ends at Steeles Avenue. When the provincial government originally committed funding for the project in 2015 the segment now under consideration in Brampton was included and paid for, but the previous Council declined to have it built.
GTA West Corridor
In December 2019, the Board expressed their support to resume the GTA West Corridor Route Planning and Environmental Assessment Study by writing a letter to the Minister of Transportation, the Honorable Caroline Mulroney. The letter reinforced its importance and the necessity to build on the previous findings. On January 10, 2020 the Minister replied thanking the committee for its support and commitment to providing a complete vision for the community at large.  In May 2021, the federal government announced that it intends to conduct its own environmental assessment of the project.  The Brampton Board of Trade is concerned that this will only further delay a crucial piece of infrastructure for businesses in our city and region.
2021 Municipal Budget
Each year, the Brampton Board of Trade follows the City of Brampton's budget process and makes recommendations to staff and Council.
Transportation Overview
See below to read the 2023 Transportation Overview
Municipal Advocacy Victory Log
• Performed critical review and analysis of the Main St LRT Extension options, a vital piece of infrastructure for Brampton's downtown and businesses throughout Brampton
• Advocated for acceleration of streetscaping improvement plans to beautify the downtown for the benefit of businesses and residents
• Successfully pushed for investment in Riverwalk, resulting in a $58.2 million commitment from the City of Brampton
• Called for timely utility replacements and upgrades to better serve businesses and residents
• Facilitated business community engagement with the city's Official Plan process, including shaping the terms of discussion to ensure direct consideration of factors relevant to Brampton businesses
• Strong advocacy for development of Heritage Heights including realistic transportation options throughout the entire community
• Won bid to host the Ontario Chamber of Commerce 2022 Annual General Meeting, a signature in-person event to be held in Brampton in April
• Hosted the 4th annual Canada's Innovation Corridor Summit with over 275 registrants
• Implemented a comprehensive, multimedia Shop Local campaign that highlights Brampton businesses and helps to instill consumer confidence post-pandemic
• Board of Trade CEO and volunteers served on the City's Economic Recovery Taskforce
• Board of Trade's advocacy and digital trade services form important part of Brampton's Innovation District
• Provided close oversight and critical review of the municipal budget process, including briefing members of council on business community priorities and concerns
• Offered strong advocacy at Queen's Park and on Parliament Hill for increased investment in Brampton's municipal infrastructure priority projects
• Actively engaging international site locators to attract new business to Brampton
Canada's Innovation Corridor
Brampton Board of Trade has taken a lead role in developing a working group of chambers of commerce and boards of trade represented along the Toronto-Waterloo Corridor, also known as, Canada's Innovation Corridor. Through this collaborative effort, we intend to define and measure the potential of taking our current corridor from good to great; and then take action on priorities to realize this. Our preliminary focus is: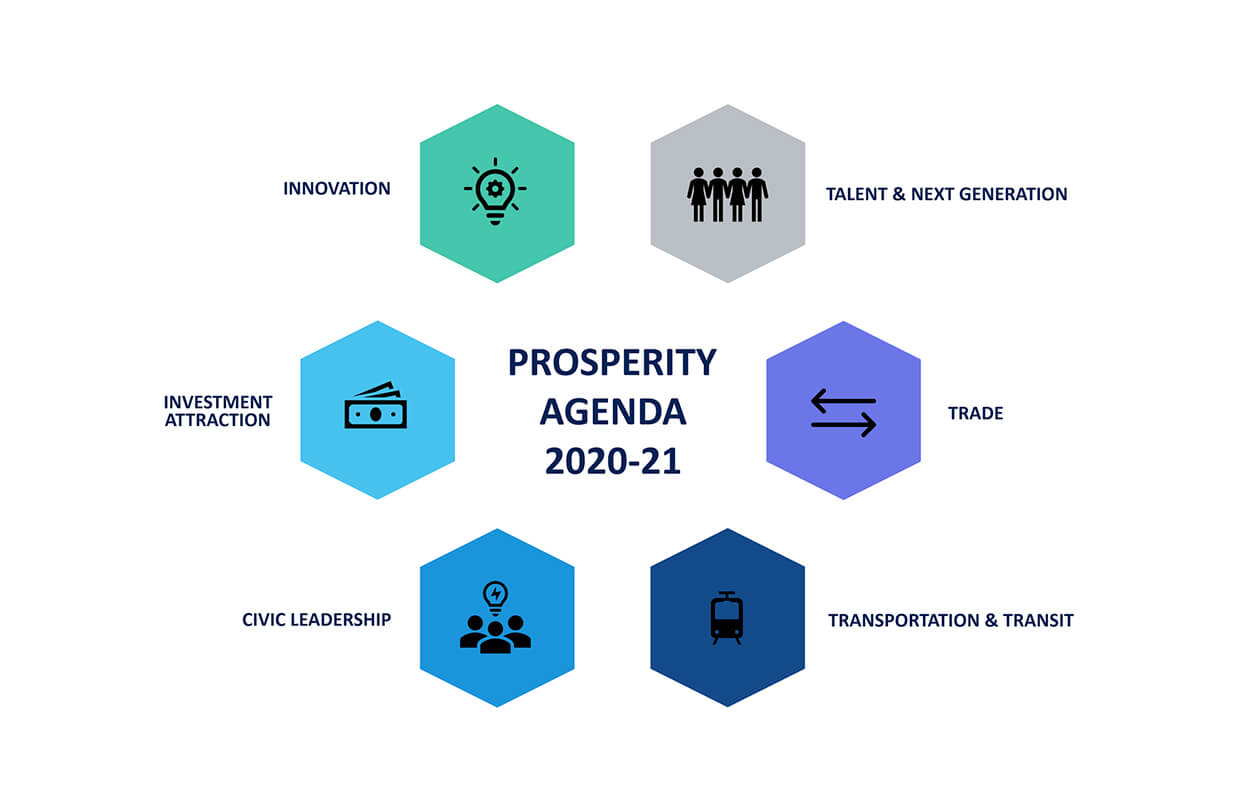 Prosperity Agenda 2020-2021
Each year, a diverse group of business leaders meet as part of the annual Prosperity Roundtable. This year's meeting occurred in June and was followed by a Business Confidence and Economic Affairs survey. The outcome of this meeting and the survey is this Prosperity Agenda. The Prosperity Agenda is a roadmap designed to help business leaders become more aware of the key drivers of our economy and their role in moving Brampton forward. Focus is on these six pillars:
1. Innovation
2. Talent and the Next Generation
3. Investment Attraction
4. Trade
5. Transportation and Transit
6. Civic Leadership
View Summary
Prosperity Roundtable Summary & Discussion Paper
At the 2016 Roundtable, the Board of Trade invited large employers to identify key actions for which they would hold themselves accountable to achieve over the next 5 years to help ensure Brampton's future economic success. These recommended actions were then reviewed, assessed and augmented by committees of the Board and received approval by its Board of Directors in January 2017.
View Summary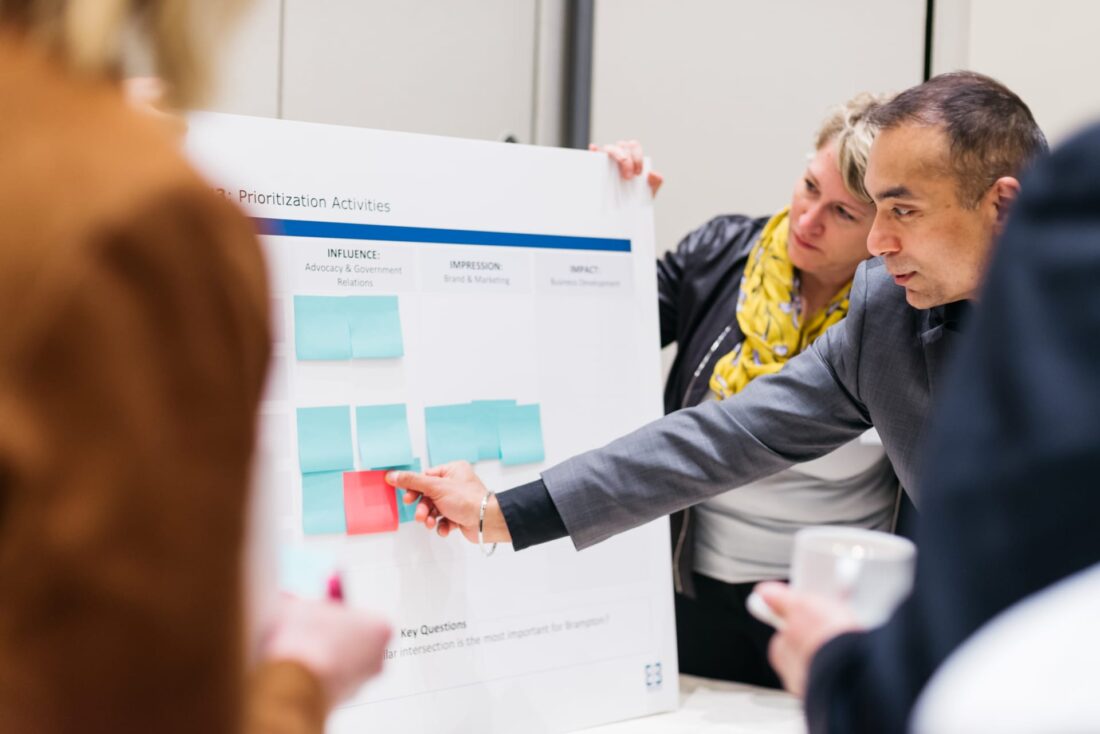 Open Door Discussions
Join our free virtual meeting to have open discussions with other local business owners and professionals. You'll connect with like-minded leaders to learn about the resources available to you, uncover opportunities, share challenges, and work towards solutions together.
Register Now