Member Spotlight: Goodison Insurance
As Brampton's oldest family-involved Insurance Brokerage; we are proud to be a heritage-rich company that has been serving customers province-wide for over 80 years. Located in the heart of Downtown Brampton, with one side of the Goodison Building facing the beautiful Rose Theatre and Garden Square with the other having direct Queen Street access, our professional roots are entrenched within Brampton's history. We have grown alongside Brampton and are always striving to make our community a better place to live and do business. We have done so by establishing the Goodison Insurance and Financial Services Fund. This allows us to give back to our community in meaningful ways by donating funds, sponsoring teams, and participating in local community events.
These deep roots and connections have allowed us to understand the needs of residents, both within the city and the surrounding areas. We make sure to incorporate our knowledge into our services and how we conduct our business. After all, your coverage is our best policy.
We're Listening…
At Goodison Insurance, we always commit to our clients and emphasize understanding and listening to their insurance and financial requirements. The knowledgeable and friendly Goodison Team are dedicated to providing honest and reliable service. The combination of these factors creates an open line of communication that allows clients to put their trust in us to provide them with best coverage options at the most beneficial price.
The Goodison Team takes time to review policies, make professional suggestions, and answer any questions that may arise. We promise a pleasant and hassle-free experience with no hidden fees or easy-to-miss fine print. Insurance is always evolving, as are the needs of our clients. We, as Registered Insurance Brokers, are proud to say that we engage in multiple professional educational seminars throughout the year; ranging from updates on insurer products to ethics and remediation processes. This allows us to make certain we are up to date on all insurance aspects while ensuring our clients are insured as best they can be.
Throughout Brampton and the surrounding areas, families and businesses have built and maintained confident and productive relationships with the Goodison Team. These trust-based, positive partnerships have formed the cornerstone of our business.
Our Commitment…
We are devoted to offering the outstanding customer service that Goodison Insurance and Financial Services Limited is known for while maintaining insurance products that are competitive and innovative. Below are just some of the Insurance, Life and Financial offerings we can provide:
Home
Income Property
Recreational Vehicles
Travel Trailers
Farms
Cottages Auto & Fleet
Motorcycle
Watercraft
Umbrella
Product Liability
Professional Liability Commercial Property
Health
Directors & Officers
Small Business
Condominium Corps.
Contractors Package RESP
RRSP
Estate Planning
Financial Planning
Life
Health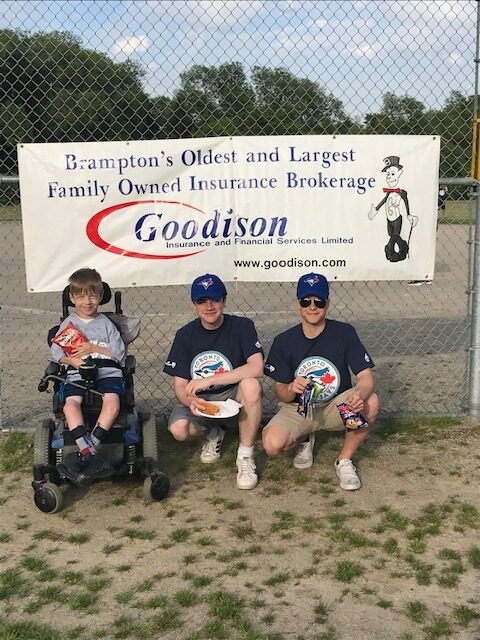 Innovative & Competitive…
Our insurance products and offerings are not only innovative but also competitive. We consistently review our client's insurance products with our multiple insurance providers, ensuring they are receiving the most beneficial coverage options for their insurance and financial requirements at the most competitive price.
A way we can offer this to our clients is by placing their premium in their hands through the use of telematics. Various insurance providers that Goodison Insurance represents are shifting to automobile usage-based insurance (otherwise known as pay-as-you-drive.) This represents a shift in how insurance is administered and how premiums are calculated. Telematics has the potential to reduce premium costs (can save up to 30%) and generate significant benefits to society (mindful driving, decreased accidents, etc.)
This is just one example of the many ways Goodison Insurance and Financial Services Limited provides relevant and professional recommendations based on the current insurance innovations.
The Goodison Team also stays connected with clients through the use of social media apps such as Twitter, Facebook, and LinkedIn. Feel free to connect with us @GoodisonTeam on Twitter and Goodison Insurance and Financial Services Limited on Facebook and LinkedIn.
By staying connected, creating and enhancing upon existing client relationships, Goodison Insurance and Financial Services Limited looks forward to doing business in Brampton for many years to come.