Connectwork
Launched in September 2017, Connectwork is where Brampton Business Women meet. This vibrant network meeting attracts the City's leading women professionals, business owners and entrepreneurs. Each meeting welcomes a guest speaker, followed by a discussion and networking. This monthly meeting has quickly evolved into a reliable resource where women in business can learn, develop professionally, discuss challenges, generate ideas and get inspired.
Register for our next meeting:
September 13th, 2023
Manage Stress and Achieve a More Balanced Work Day
Join the experts at Nirvana Wellness Centre who will share practical techniques and strategies to achieve a more balanced and healthy work day. With a motto of "Mindset is Everything", their mission is to optimize the mind-body connection, helping patients holistically overcome physical, environmental and emotional stressors by using natural therapies that are in sync with their bodies' unique healing abilities. As part of their integrated approach, they have handpicked a passionate group of practitioners specializing in the treatment of a broad range of conditions. Their practitioners will be on site to help you learn practical techniques and strategies to balance your emotional and physical well being in the work place.
Register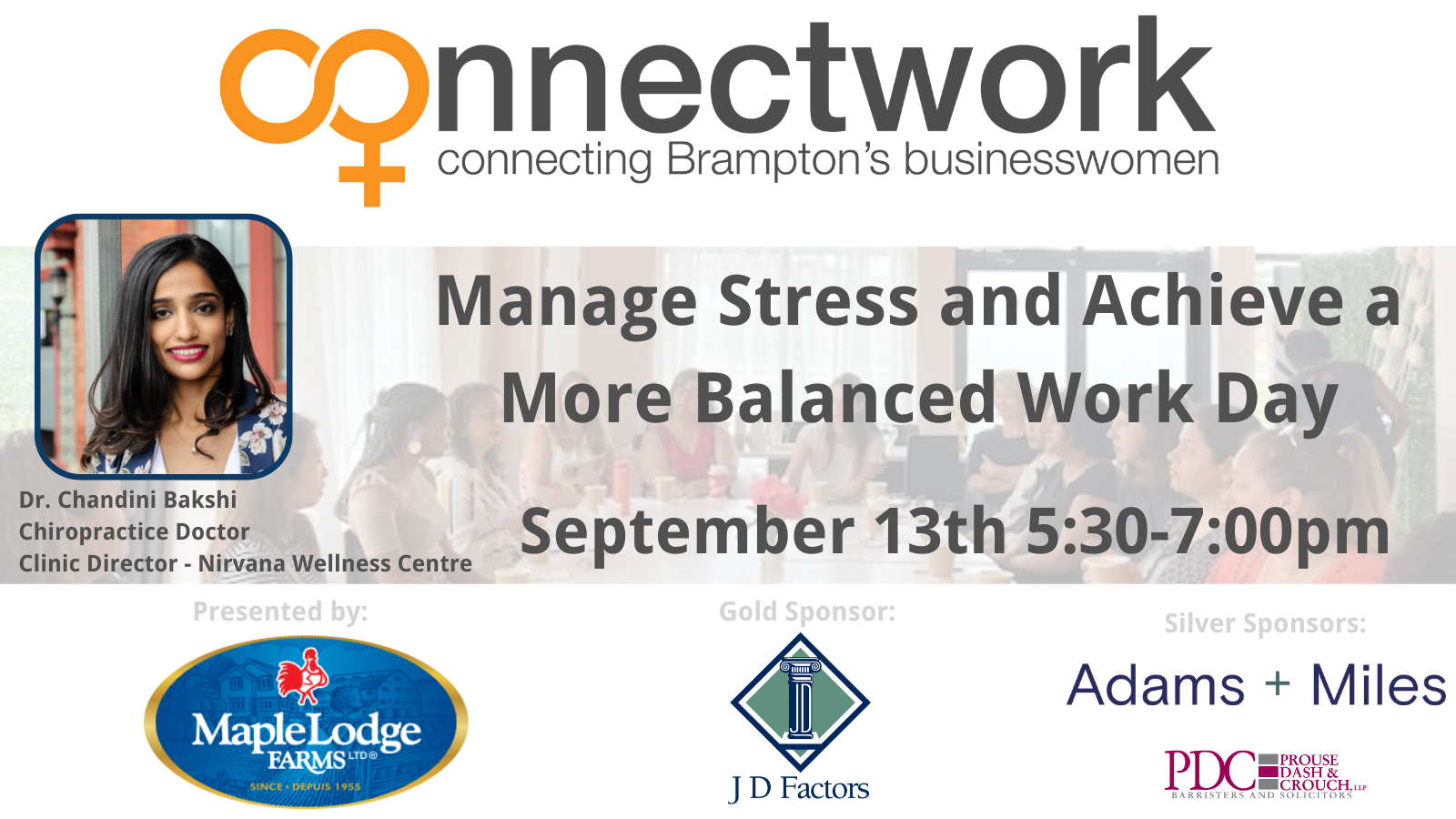 Thanks you to our Sponsors:
March 9th
#breakthebias
The Changing Face of Canada's Workforce
On the day after International Women's Day, we were joined by three important women in our community, our Chair, Donna Fagon-Pascal, Councillor Rowena Santos and Usha Srinivasan Director, Ryerson Venture Zone to take part in a panel discussion on the findings of a report completed by Pink Attitude Evolution, about South Asian Women in the Canadian workforce, and challenges and opportunities they face.
Pink Attitude Evolution was founded in 2015 as the first non-profit organization of its kind in Canada where women of South-Asian origin are empowered to achieve their full potential in their chosen endeavours.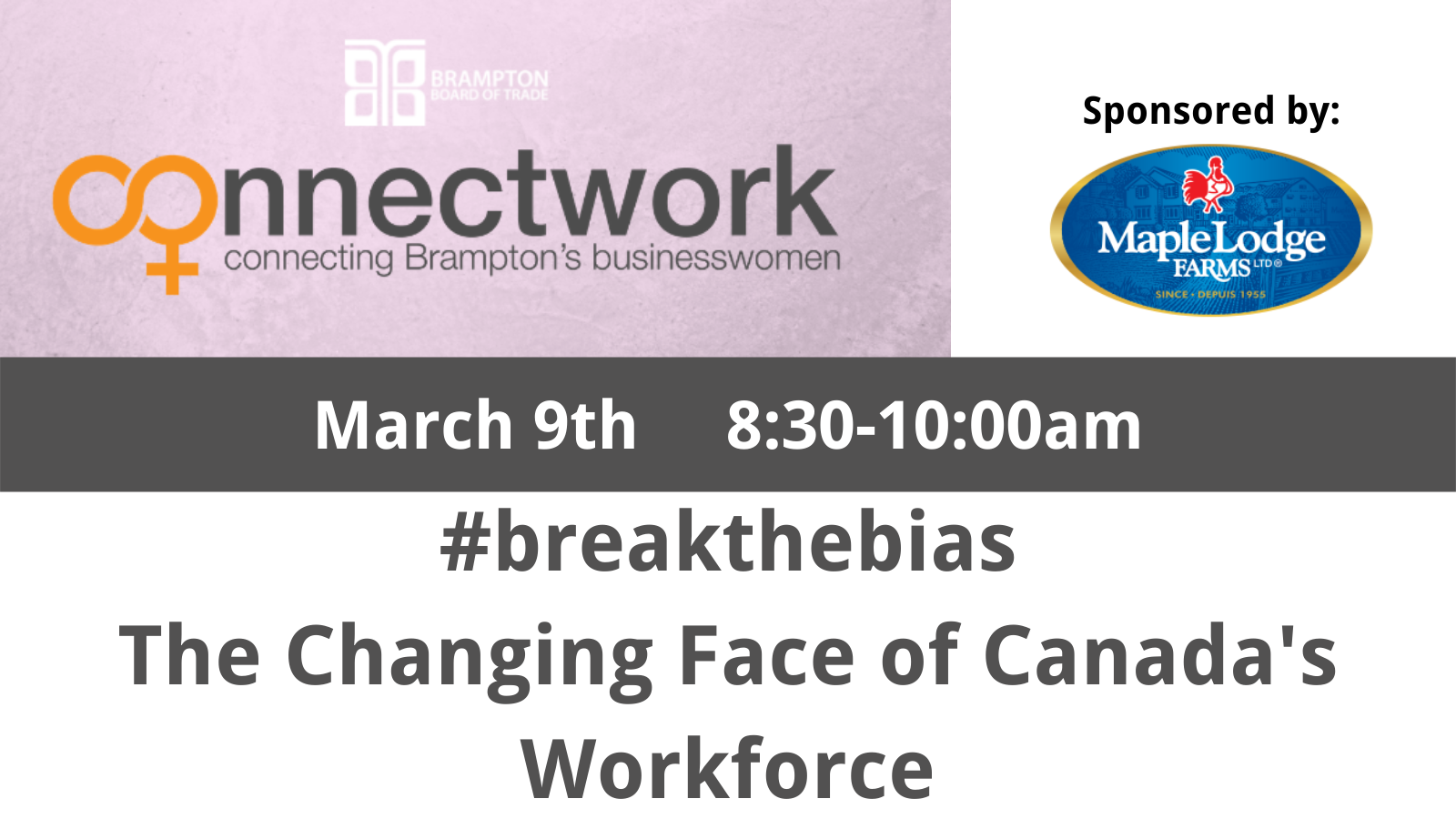 How to "Show Up" For Your Customers

In this webinar, Sharon Worsley, Senior Manager Chamber Success, for the Ontario Chamber of Commerce, share strategies to excel in meeting the needs of your customers, clients or patients.
With over 25 years in the hospitality and tourism industry, Sharon understands the importance of not just customer service but customer excellence!
Working for an independent 4-star hotel in downtown Toronto, in one industry alone, Sharon increased the number of accounts from 8 to over 120, much of it she attributes to providing customer excellence.
While at the hotel, Sharon also ran her own business development consultancy firm. She noticed that many organizations were 'leaking opportunities' that they often didn't realize.
Sharon shares relatable real-life experiences and strategies that you can add to your business to help you get back on track and provide customer excellence in ways you might not have considered before.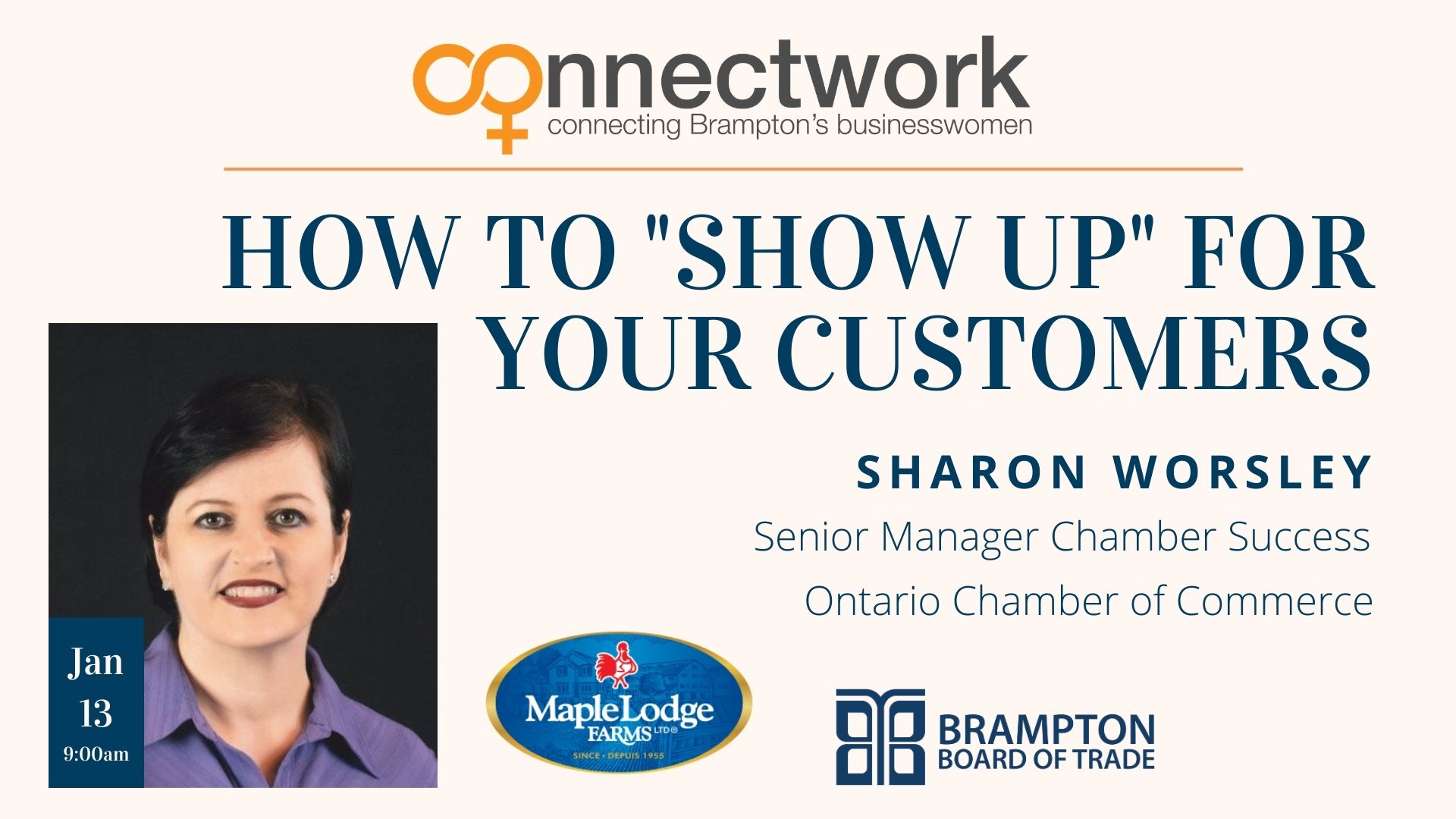 Emotional Intelligence
Emotional Intelligence skills are critical for building relationships and teams, resolving conflict, solving problems, leading effectively and building resilience.
In this session, you will receive an overview of the Emotional Quotient Inventory [EQ-i 2.0] that is based on decades of research to support effective human performance and development.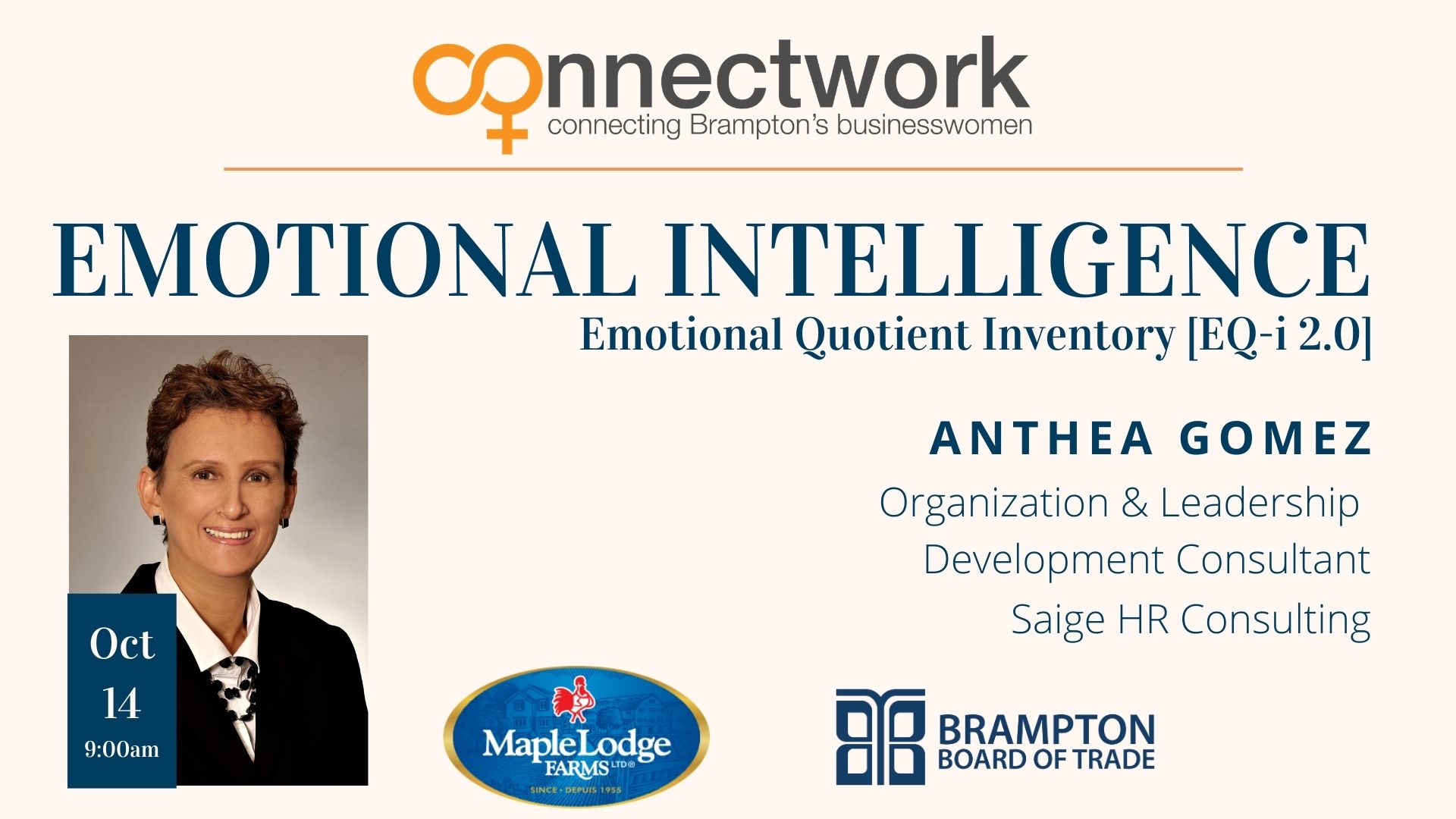 The She-Covery Project
Confronting the Gendered Economic Impacts of COVID-19 in Ontario
The COVID-19 crisis is having a disproportionate economic impact on women. There are several reasons for this.
This policy brief lays out a path to Ontario's "she-covery" by examining data on the gendered labour market impacts of the pandemic and offering policy solutions to confront both the immediate and longer-term challenges.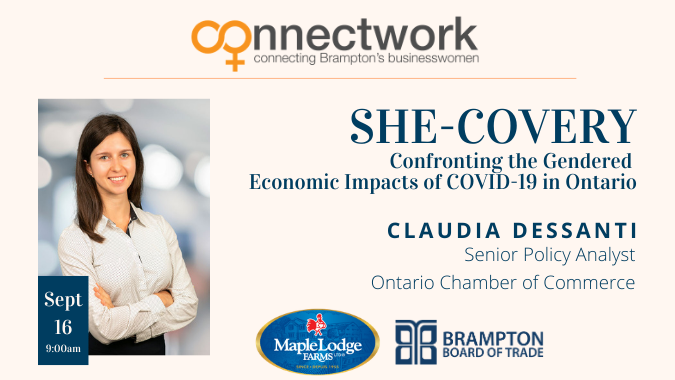 Getting Noticed in a Digital World
Dalia Mazhar, Postmedia Solutions joins the Brampton Board of Trade businesswomen's networking group to talk about marketing in our current environment.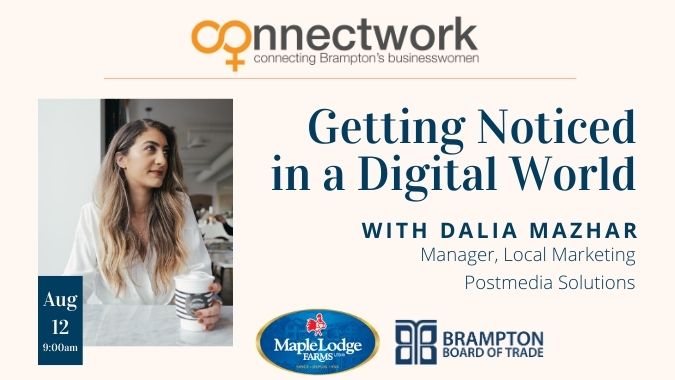 Member Stories
Shannon Hawkshaw, Partner | Adams & Miles
Adams & Miles LLP has been involved with the BBOT for more than 10 years. I have personally attended and participated in several business and social events, including golf tournaments, After Hours networking events, InspiHER and ConnectWork. It has been a great experience meeting business owners in the Brampton area and creating many lasting relationships while expanding our referral network. I have been a member of the ConnectWork Group since it began and this is one of my favourite networking events at the BBOT. This group provides a great opportunity to speak with business owners monthly and really get to know them and their businesses. We have shared some great ideas and supported and championed each other. Adams & Miles LLP has been able to assist and advise several clients and business contacts through our relationship with the BBOT.