The Business Insight Series is designed for the smart, savvy business person who is looking to learn, engage and grow. Topics will cover a wide range of issues, skills and more. Don't forget that as a member, anyone in your organization is welcome to attend.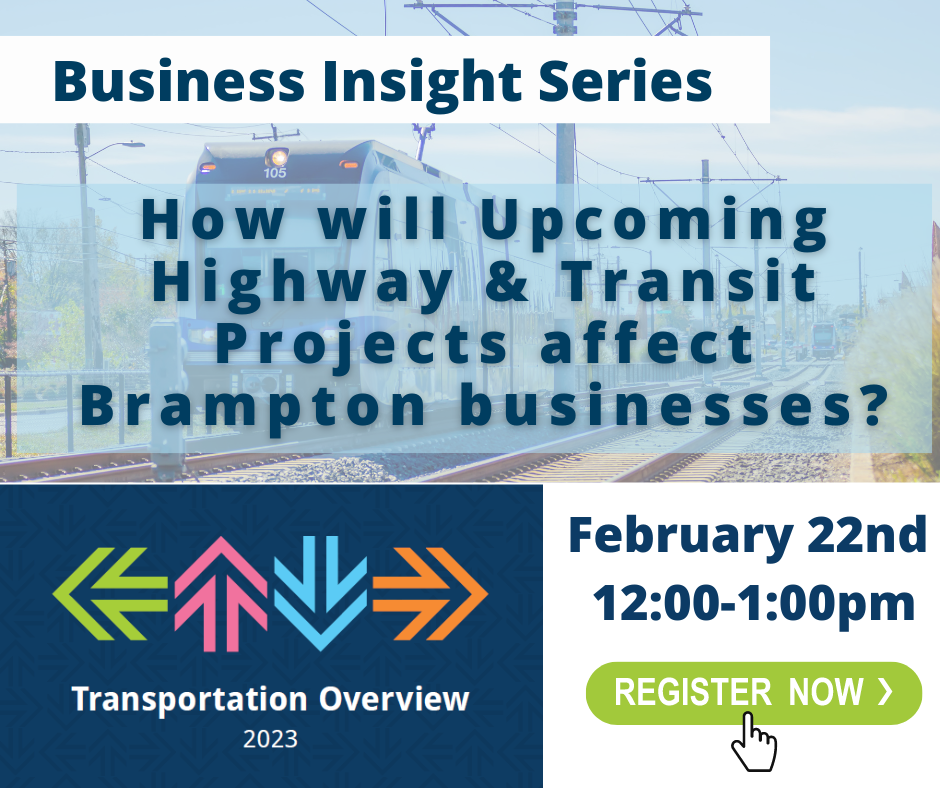 February 22nd, 2023, 12:00-1:00pm
How do Upcoming  Highway & Transit Projects affect Brampton businesses?
The Brampton Board of Trade is pleased to release the 2023 update to our Transportation Overview! With thanks to our sponsors CN and 407 ETR, this document provides concise, easy to follow explanations of the status of our city's biggest transit and transportation-related infrastructure projects. The overview informs members on the status of planning and construction, the expected next steps, and commentary on the business implications of each.
Join BBOT CEO Todd Letts and a panel of business leaders and transit advocates as they review the 2023 Transportation Overview.
View 2023 Transportation Overview HERE
Register
January 17th 2023, 10:00-11:00am
Kickstart your Digital Transformation Journey through a Government Grant
Success in a digital world requires small- and medium-sized businesses to modernize and evolve to meet the changing needs of their customers and remain competitive. The Canada Digital Adoption Program (CDAP) allows organizations to access up to $15,000 through the Boost Your Business Technology grant.
Attendees learned how their businesses can use CDAP to harness the power of technology to standardize, streamline, and automate processes.
Creating and implementing an effective digital adoption strategy can help:
Improve communication and collaboration
Automate repetitive tasks and processes
Gain deeper insight into key business drivers and trends
Empower team members across office and field locations
Create seamless customer experiences
Improve resilience to cyber and privacy threats
Analyze data to make better decisions
Reduce costs and risks of managing technology
View Presentation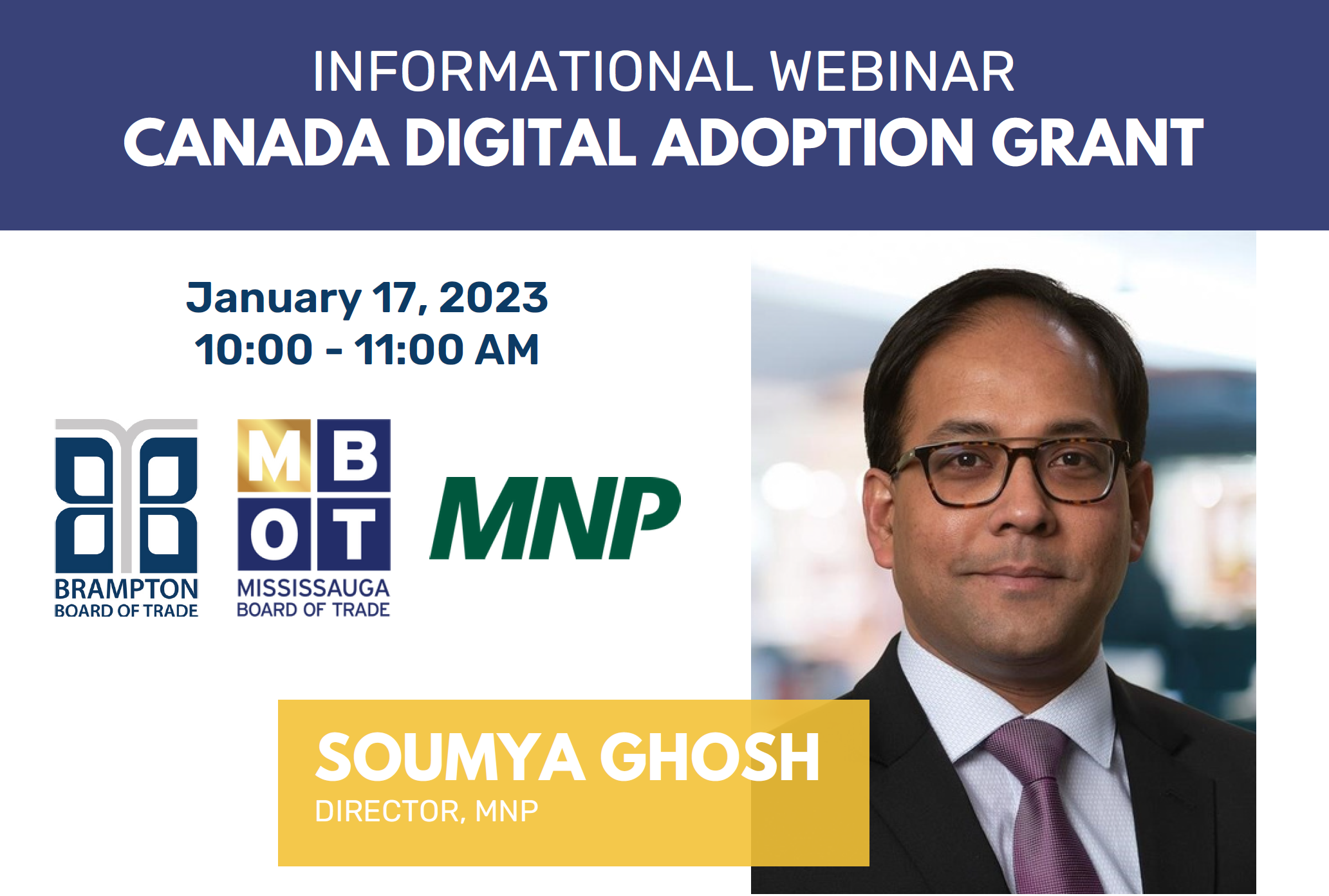 December 21, 2022
Business Insights: 2022 Business Confidence Index Results Review
How Confident are Brampton Businesses?
This virtual Business Insights webinar focuses on a discussion surrounding the key results from Brampton Board of Trade's third annual Business Confidence Index.
In the fall, Brampton businesses were asked about their confidence with the economic outlook. Check out what Brampton businesses have to say about:
-Their business prospects
-Brampton's economic future,
-Confidence in civic leadership
-and other important business insights into infrastructure, talent and innovation.
BBOT CEO Todd Letts and a panel of business leaders review the results of the survey.
View BCI Results HERE.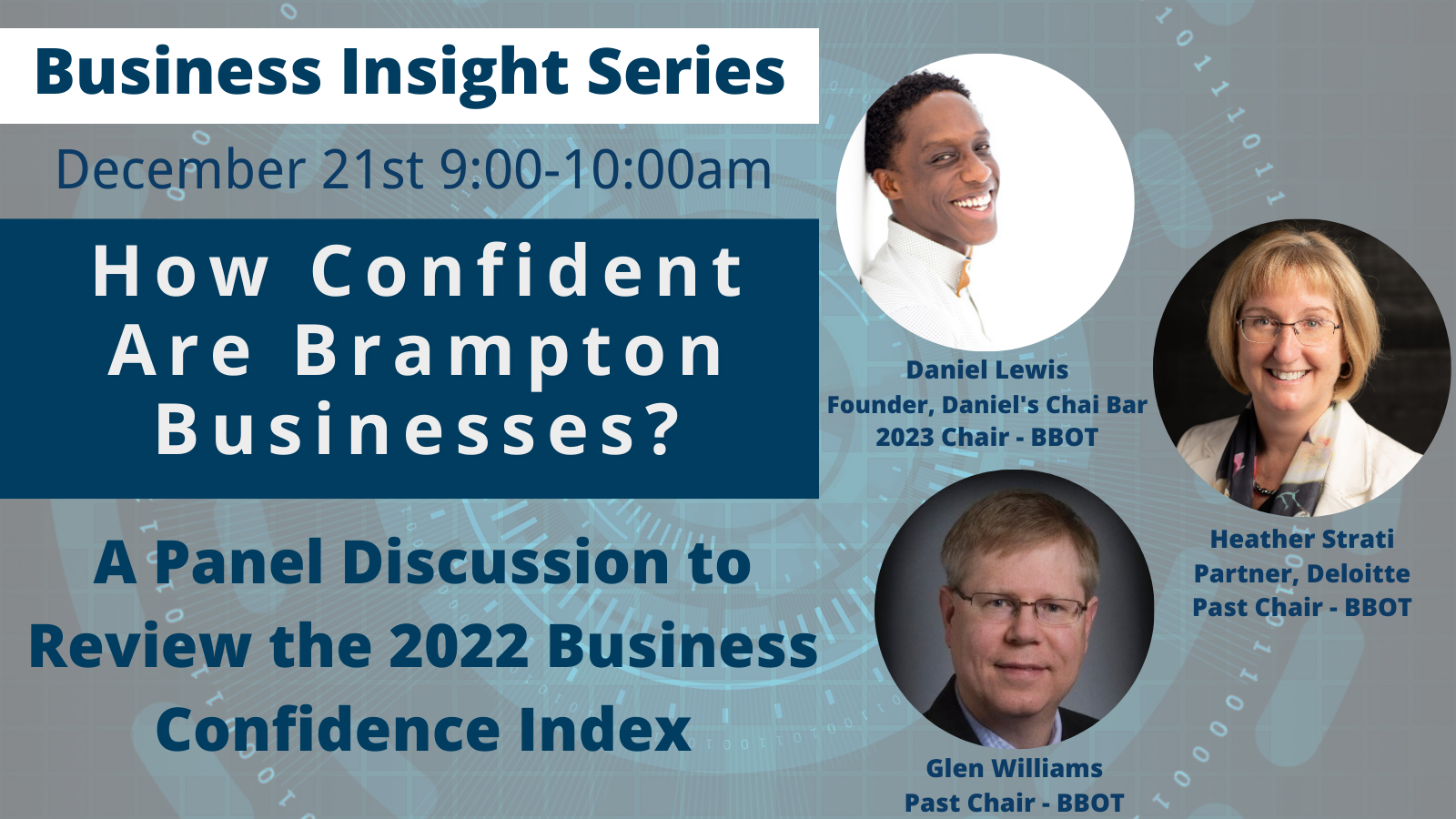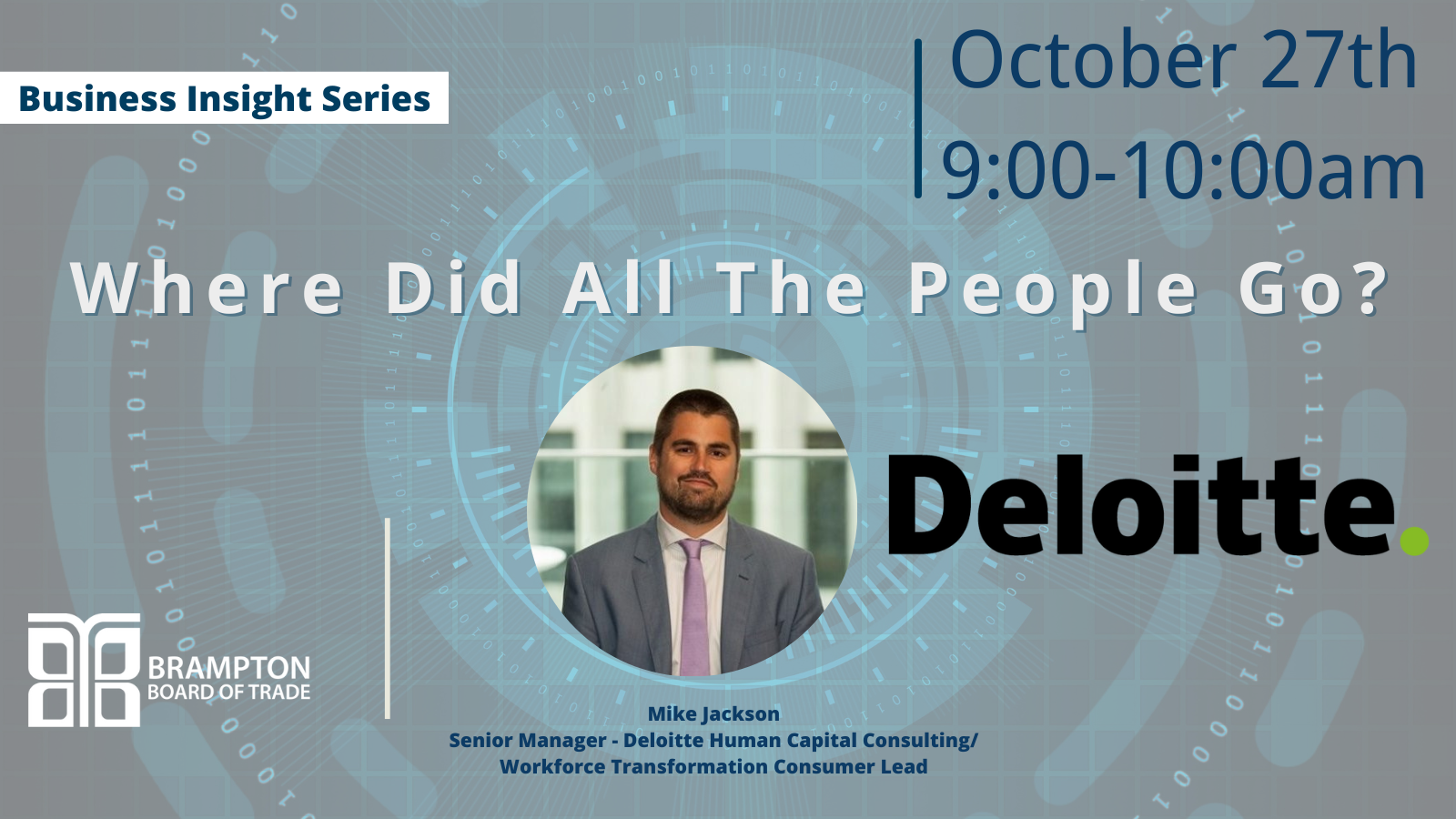 October 25, 2022
Where Did All The People Go?
If you have tried to expand your workforce in this post-Covid era, you'll know that hiring and retaining talent is a challenge. You may have stopped to wonder…where did all the people go? Why can't we find staff? How can businesses adapt to and prepare for the next few years in the midst of this uncertainty? What do the current employment trends mean for the growth of business – regardless of sector? Everyday, business leaders are asking these questions and more.
On October 27, Mike Jackson, Senior Manager – Workforce Transformation Consumer Lead at Deloitte explored these burning questions and provided insight to help you navigate the current situation and prepare for what is to come. He went over the stats and provided valuable information to help you, as a business leader, to navigate and succeed through this challenging time. Mike took guests through the work that Deloitte has done to understand and identify the trends.
Link to presentation: Future of Work Presentation
Link to report: Understanding Canada's Labour Shortage
Power up your Growth with BDC
October 16-22nd is Small Business Week, and BDC brought their expertise to the table to support business growth.
Dare to do things differently: Power up your growth – Presented by BDC – October 18th, 2022
The economic recovery has brought new challenges for Canadian entrepreneurs. Inflation, labour shortages and supply chain challenges are threatening their profitability. Finding better, more productive ways of working will help business owners drive the Canadian economy beyond these challenges to create a more inclusive and sustainable future.
Speaker:
Shaun Rath, Manager, Business Centre – Brampton Area
Shaun is an experienced commercial lending professional and exceptionally motivated leader with over 20 years in business development in commercial banking and advisory services. He has worked at BDC for the last 22 years where he has held leadership roles in small business and mid-market lending, strategy and operations. He currently is the leader for BDC's team in the Brampton area (Brampton, Bolton, Caledon, Orangeville). He is passionate about helping entrepreneurs and what the future of banking may look like, including how to adapt technologies to optimize the client experience. Shaun has an Honours Bachelor of Business Administration Degree from Wilfrid Laurier University.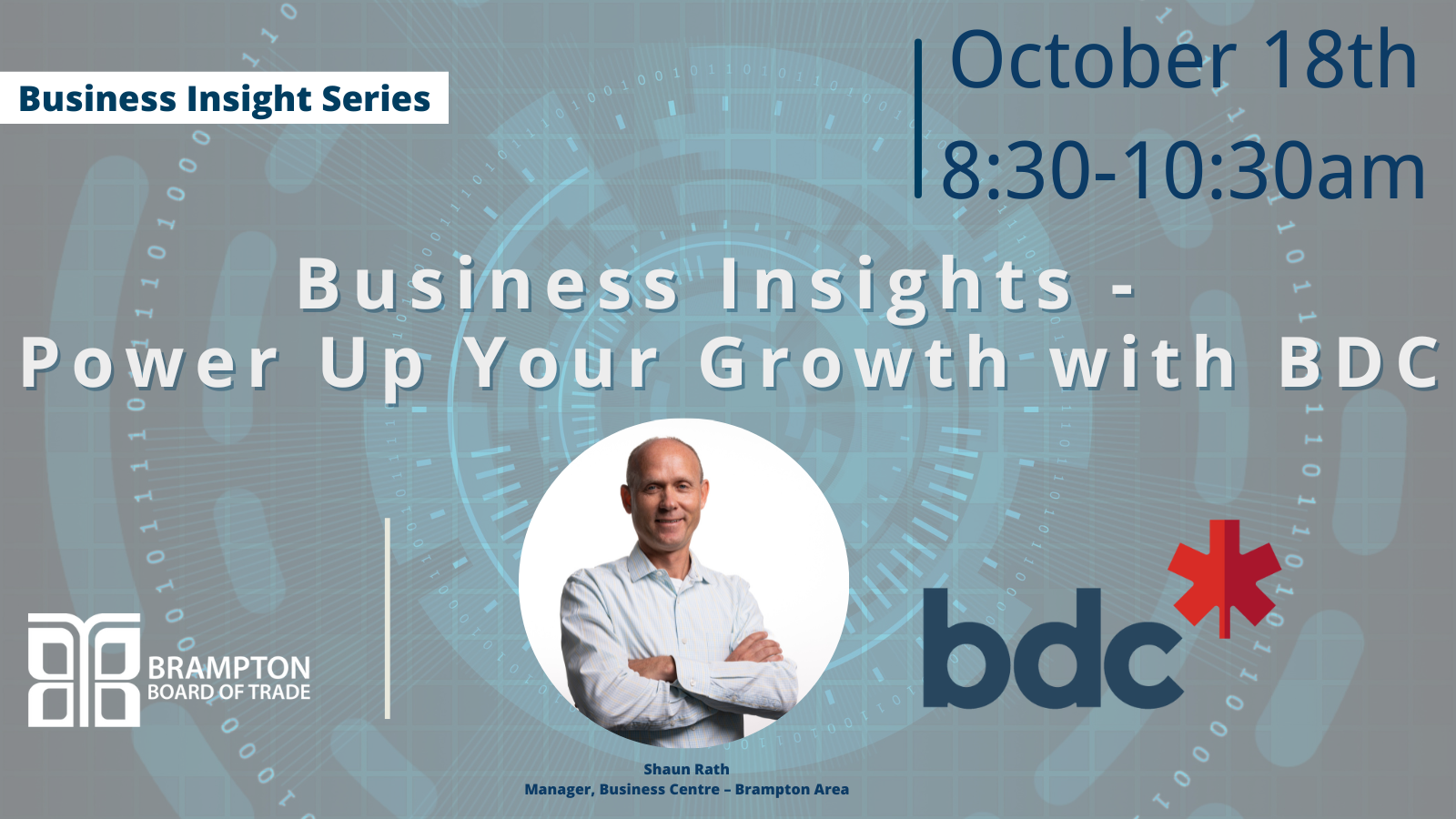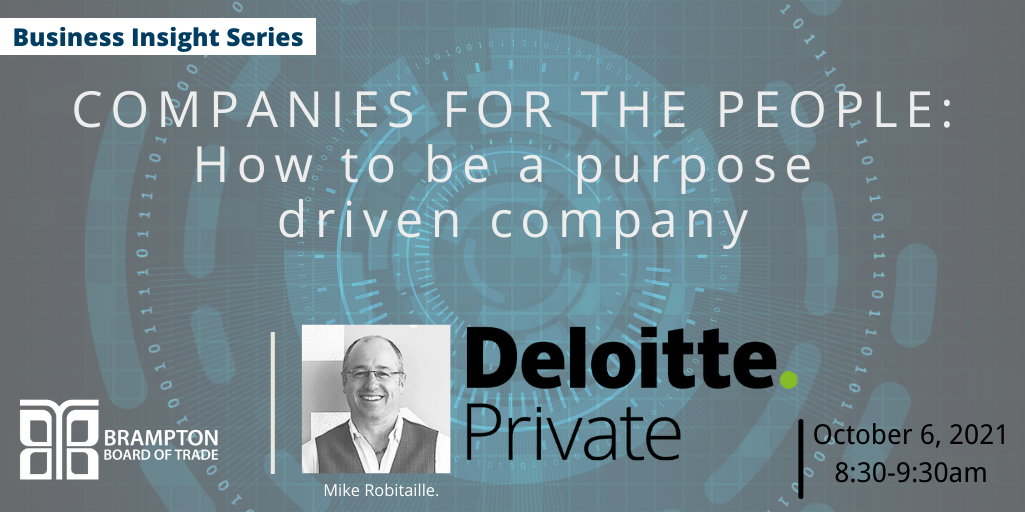 Companies for the People
October 6th, 2021
Mike Robitaille, Partner in Risk Advisory at Deloitte. Mike speaks to the importance of being a purpose-driven organization and the new expectations for business leaders. He wants employers to cheer for their company to win!
Cyber Security
October 8th, 2020
We meet with BSC Solutions Owner & President, Bill Boisvenue and discuss how to protect your business from Cyber Security threats.

Coming Up For Air: Practical Strategies for Financial Breathing Room
July 21, 2020
With Stephen Stashin, Certified Financial Planner Professional, and special guest Stephanie Holmes Winton, Certified Cash Flow Specialist