Trade Network
The Trade Network supports Brampton businesses exporting to and looking to expand to international markets. They actively work with the Board's partners to identify industries and sectors interested in building trade relationships with Brampton businesses. These meetings include presentation of research on inter-provincial and international markets; government support and best practices for both domestic and international trade.
Focus: New market development; reducing barriers to market access.
Save the Date for our next meeting:
Wednesday December 13 2023 – Holiday Trade Reception
Wednesday March 6 2024
Wednesday May 8 2024
Thanks to Earl Provost, Ontario's Agent General in Chicago for joining the Trade Network on October 16th to talk about opportunities for Ontario businesses in the Great Lakes and mid-west regions! We covered a wide range of topics including identifying the sectors growing most rapidly as well as how to navigate and understand the politics of 'Buy American' and other issues.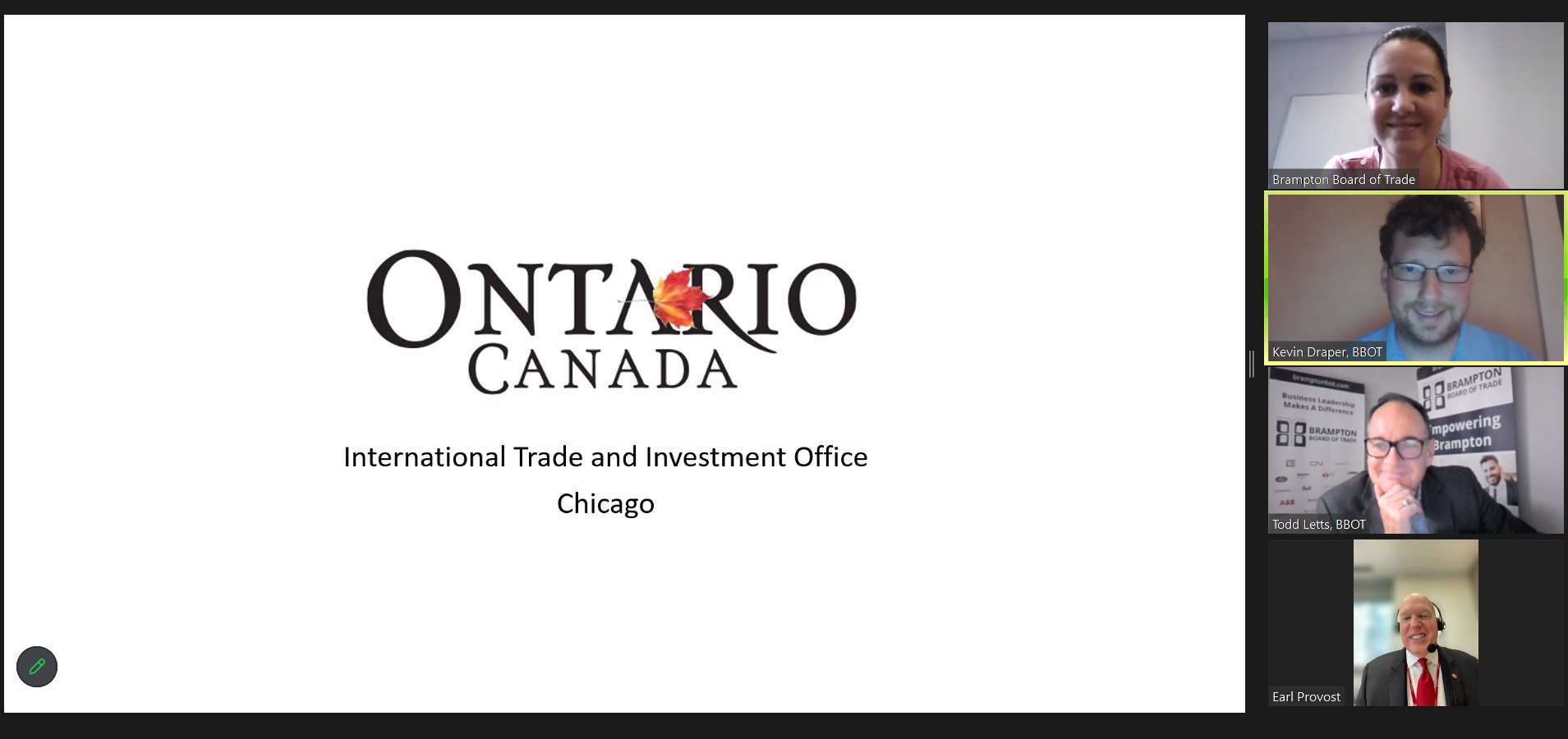 On August 16th, Board of Trade members had the chance to meet with the Consul General of India, Smt. Apoorva Srivastava to discuss current and future opportunities in India. Sectors of interest are: Food & Beverage Industry Health & Science Banking/Finance Advanced manufacturing The Consul general gave a short talk, and then there was a Q&A opportunity, where you attendees had the opportunity to ask questions.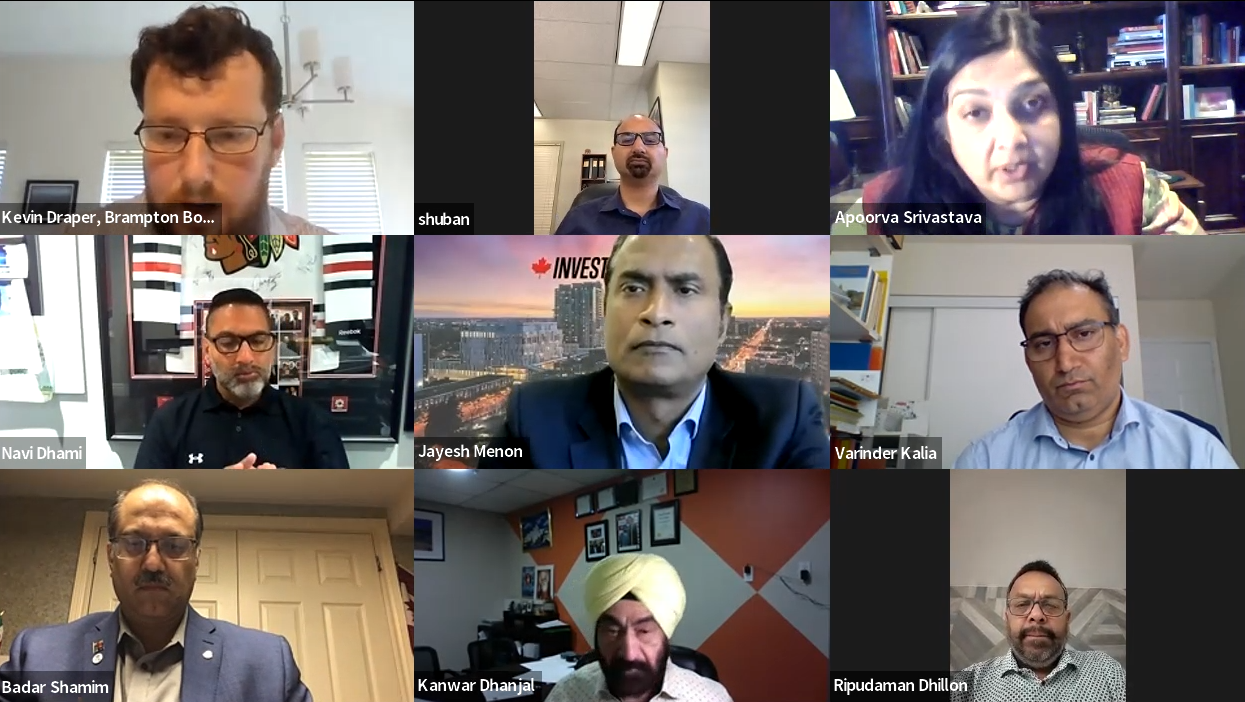 Innovation & Trade Network
B2B Connection and Trade Financing: an End-to-End Solution that Works
We will be joining our Innovation and Trade Network to welcome Nicolas Forzy from Meriado B2B. MERIADO is a global B2B platform model designed exclusively for vetted businesses to trade and transact with each other. Networking tools let you send RFPs in just a few clicks and receive immediate responses. Meriado's end-to-end solution tracks and archives all the paperwork for each business trade to give you full compliance control.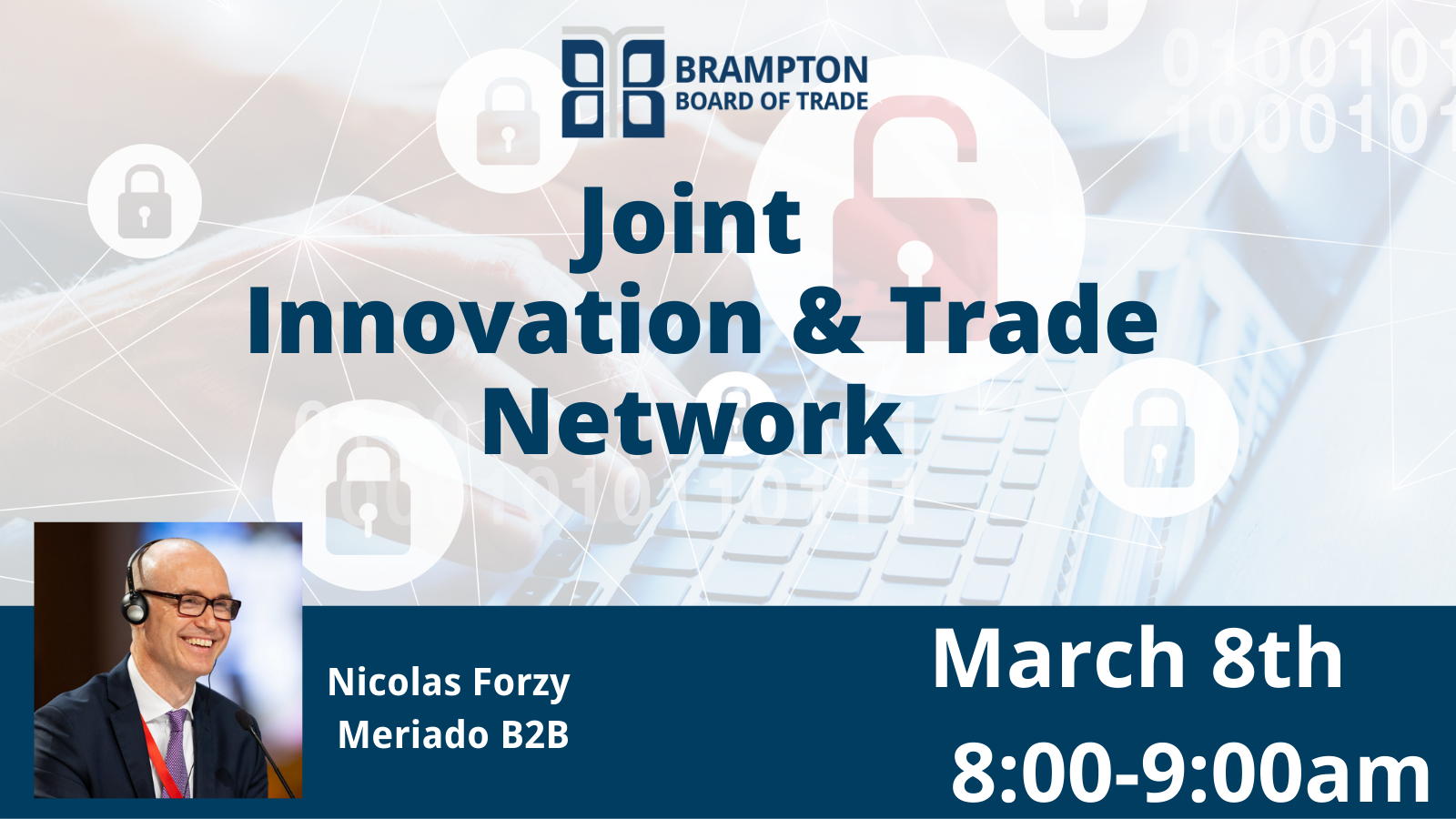 Trade Network – November 5, 2021
Supply Chain Chaos: With global supply chains backed up, affecting the price and availability of common goods, this is a topical issue of importance to both businesses and consumers. Brampton Board of Trade is welcoming Girish Nair, Assistant Vice President International Intermodal Sales & Marketing at CN, to discuss this topic with members from the Trade and Goods Movement Network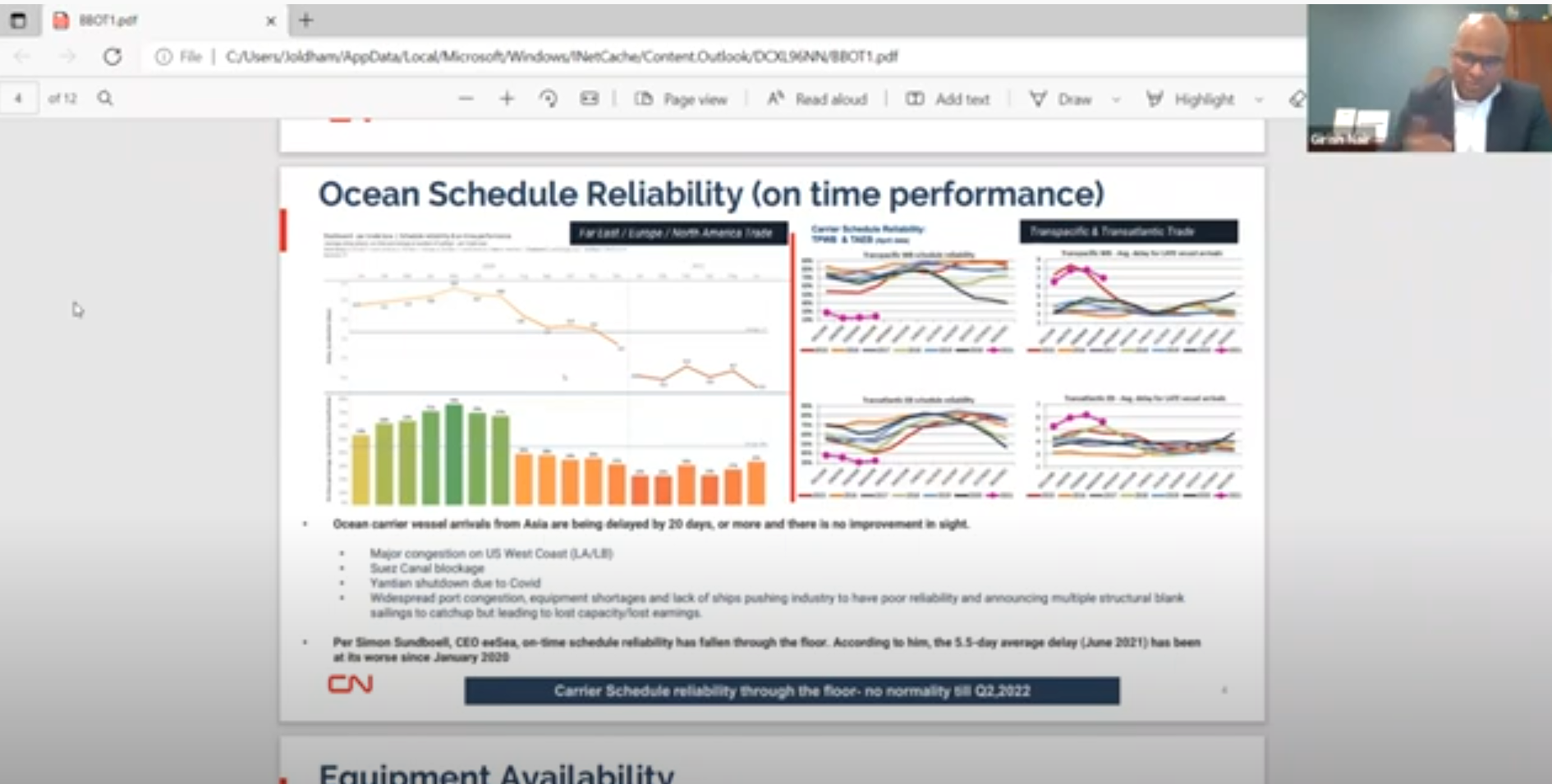 Trade Network – August 24, 2021
Trade and Exporting with Pakistan and Who will be in Dubai for the World Expo 2020.
We will be welcoming His Excellency, Mr. Abdul Hameed, Consul General and Mr. Azhar Husain, Pakistan Trade and Investment Counsellor who will be sharing Pakistan's trade potential & connecting Pakistani businesses with key business sectors as well as investment opportunities between Pakistan and Brampton.  During the second half of this event, Akiko Onozuka, Consul, Head, Public Affairs and Expo 2020 Liaison, Consulate General of Canada in Dubai speaks on World Expo 2020.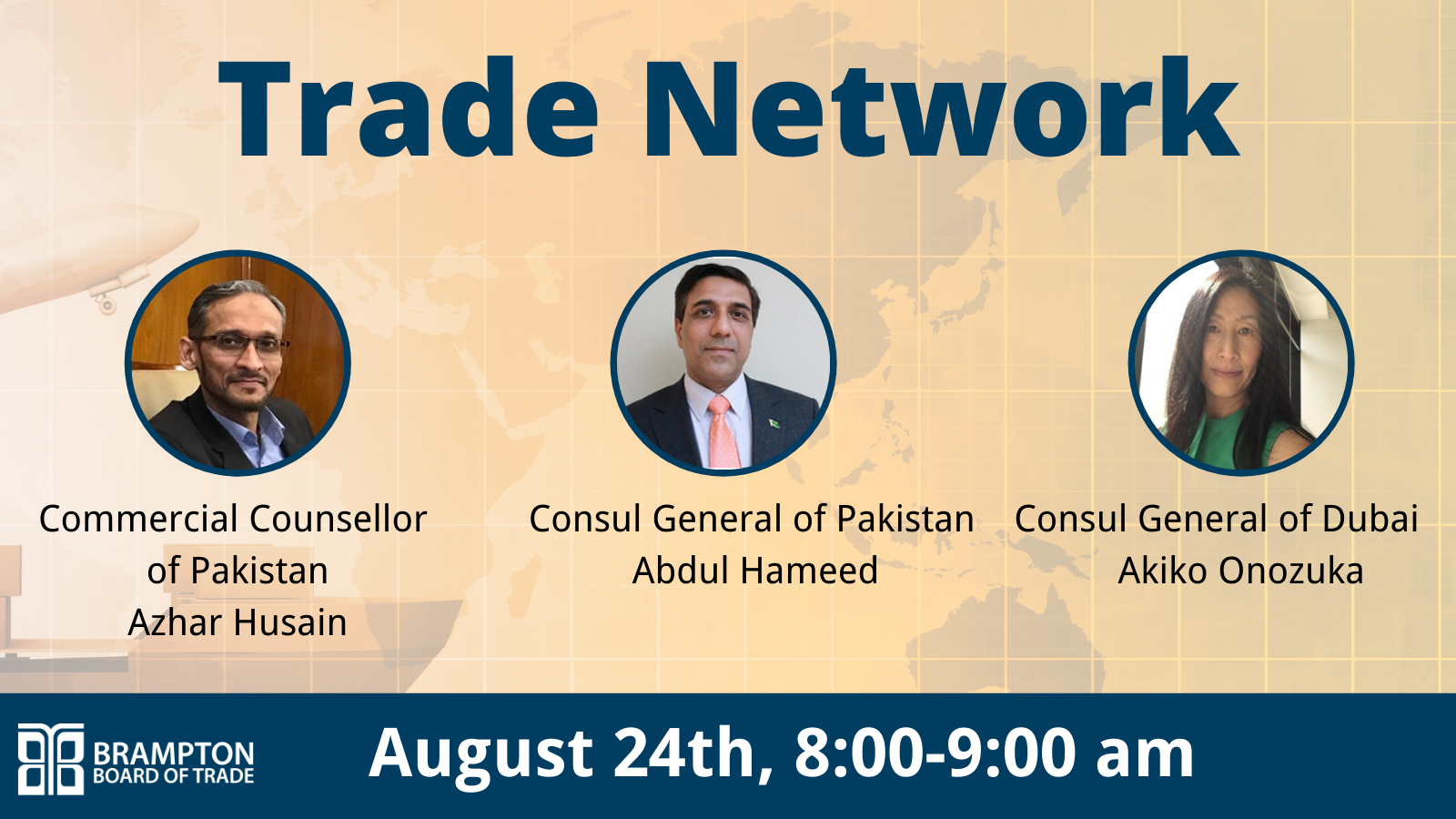 Trade Network – July 7, 2021
This future-oriented discussion will be of particular interest to Brampton manufacturers, exporters and others interested in international affairs, particularly in strengthening trade and investment between Ontario and the Southern United States.
Understand the role of the Ontario Agent-General.
Learn about opportunities and resources that will assist with market entry.
Strengthen your knowledge of the Buy America Act and its implications on trade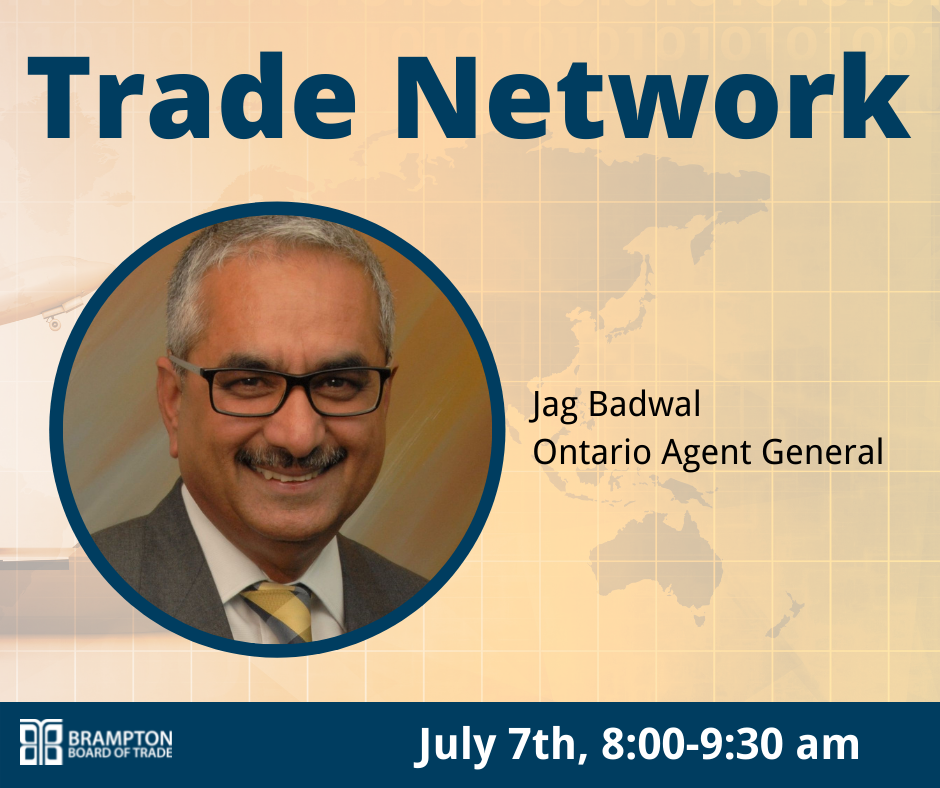 Trade Network – April 29, 2021
We welcome Maggie Weaver, Principal, Shaftesbury Associates, who speaks about Exporting: Encouragement for Small Businesses.
Our Network sponsor, Export Development Canada (EDC), welcomes Navi Dhami, Senior Account Manager, who shares information regarding international contracts.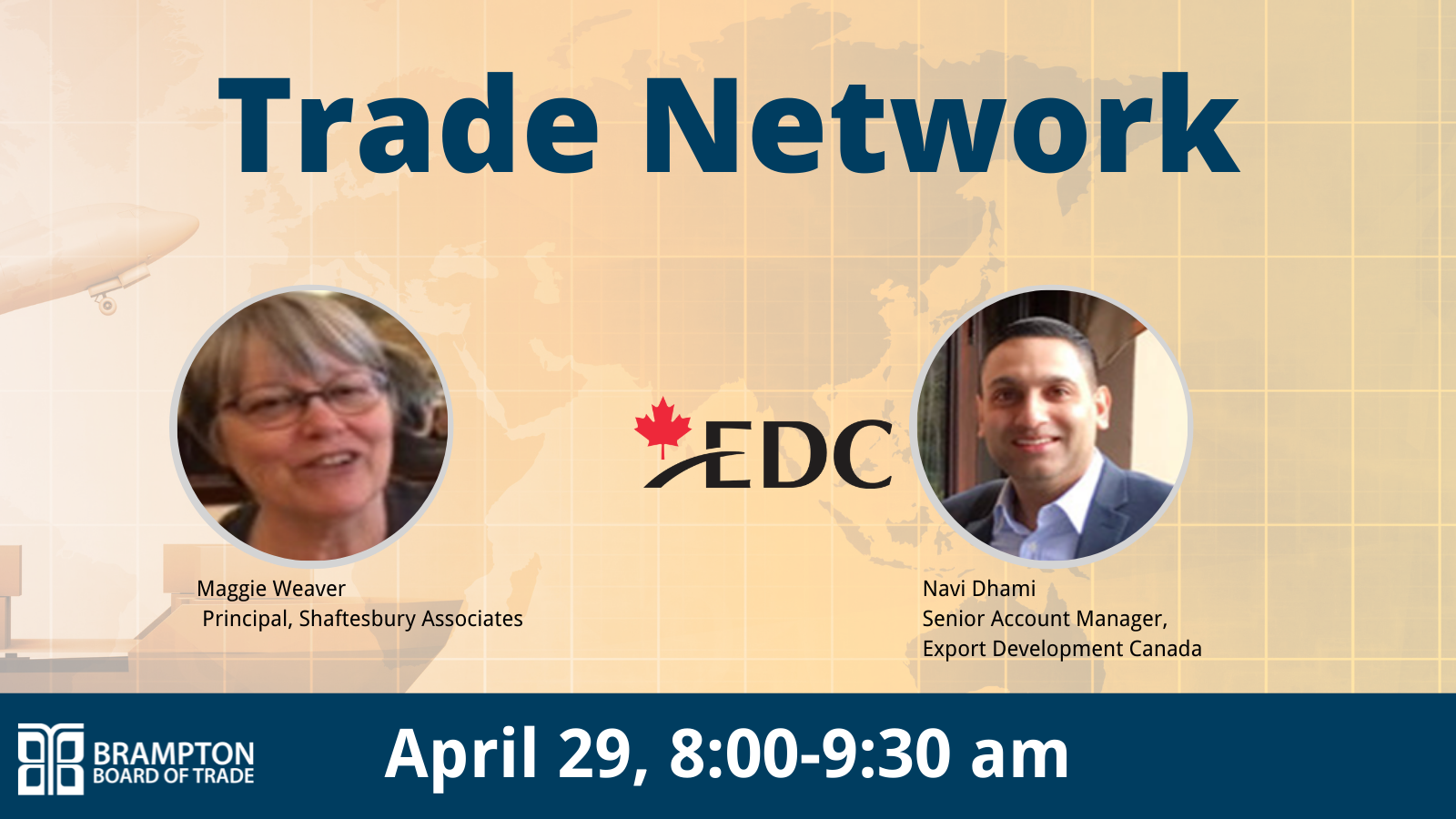 Trade Network – February 25, 2021
Session #1: Pierre Pettigrew, Executive Adviser, International, at Deloitte.
Session #2:
Jean-Bernard Ruggieri, Chief Representative, Head of Middle East & Africa – Global Business Development, Export Development Canada. Chafic Mourad, Senior Regional Manager, Middle East, Export Development Canada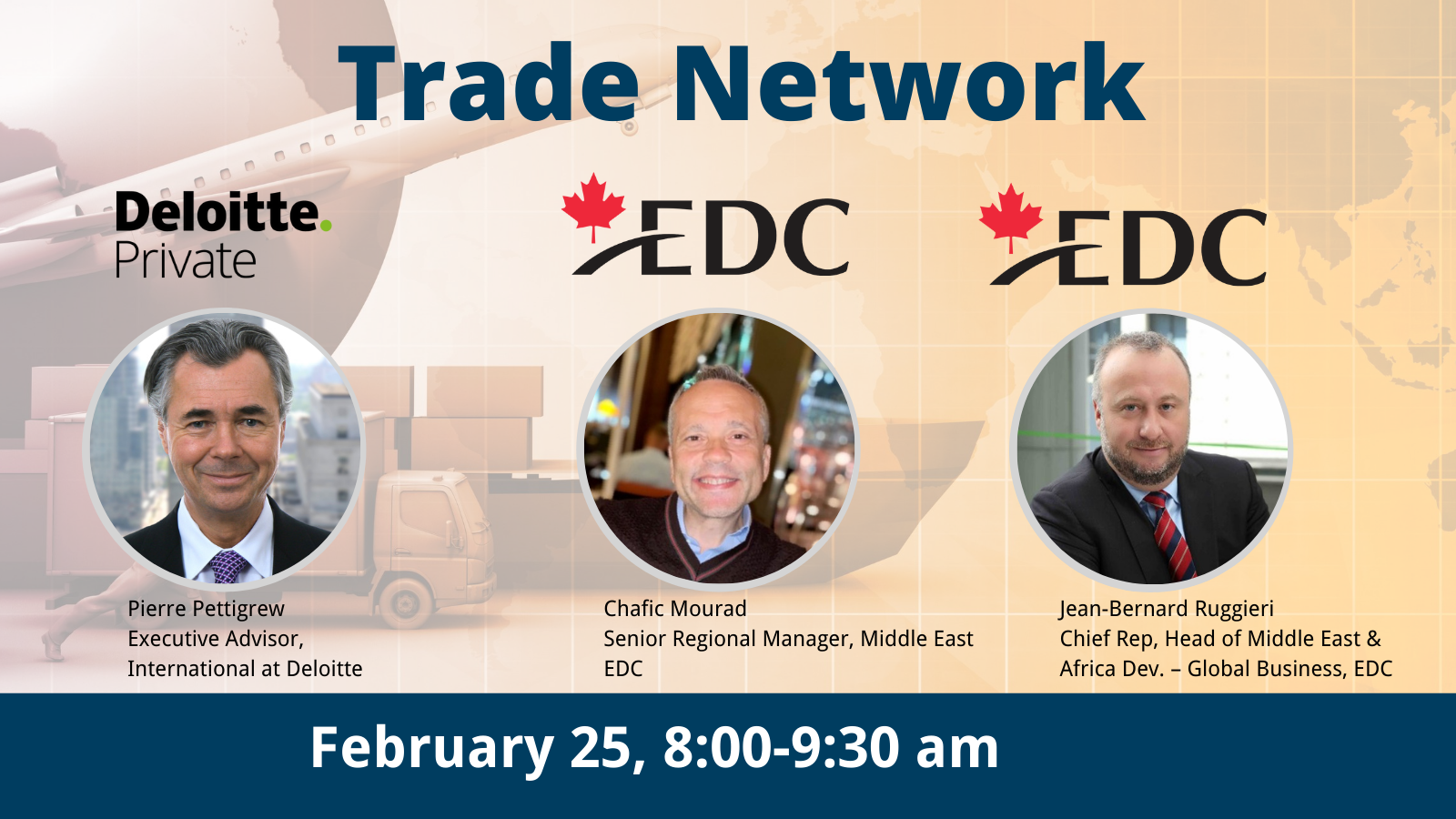 Interprovincial Trade Advocacy
The Brampton Board of Trade works alongside other Chambers and Boards to advocate Provincial and Federal governments on behalf of its members. CEO, Todd Letts calls on all Premiers across Canada to address and eliminate interprovincial trade barriers.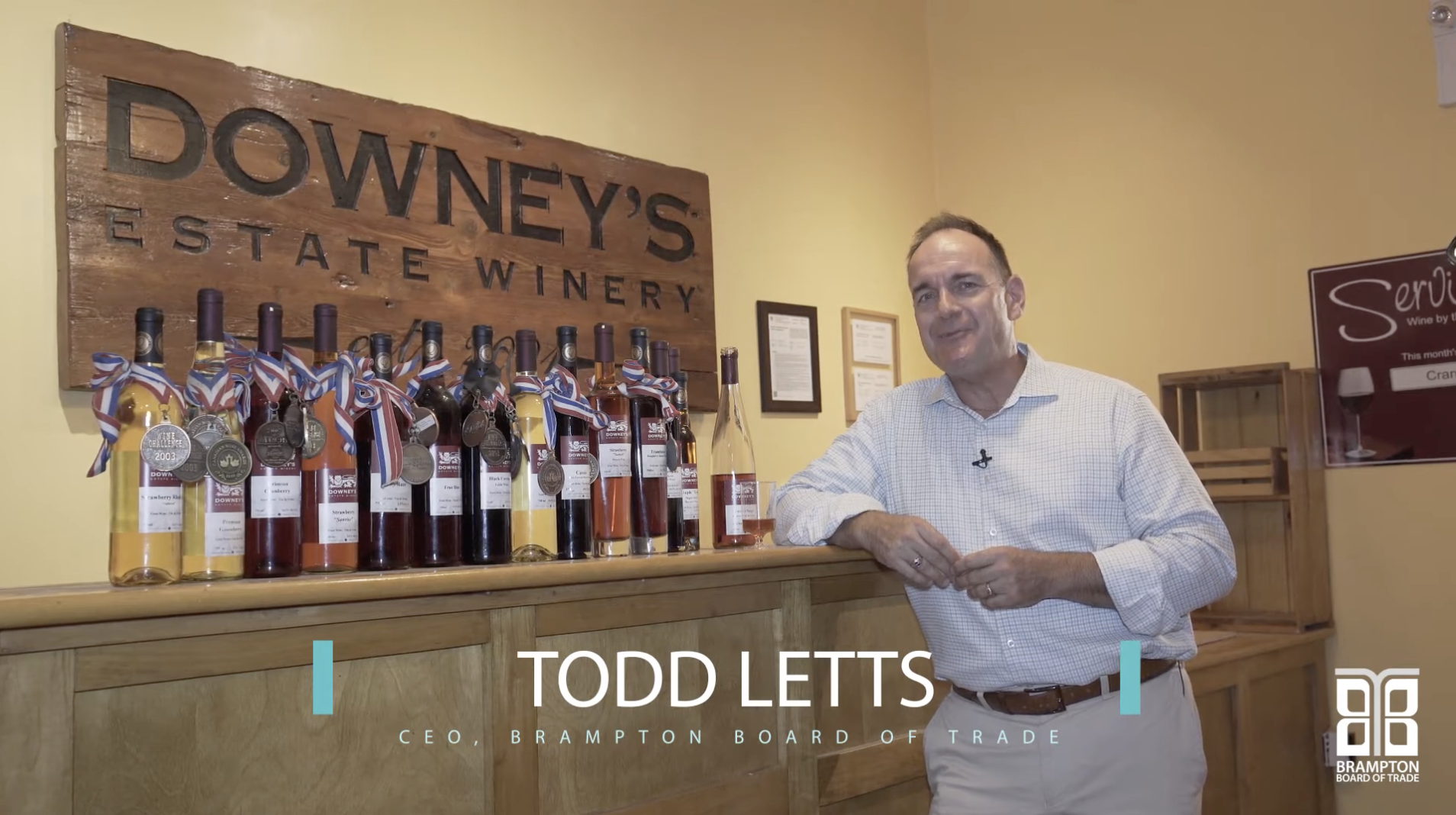 Interprovincial Trade Barriers
The Board of Trade is working with Boards and Chambers across the country to show a united business community front on the importance of open internal trade and the elimination of interprovincial trade barriers as a no/low-cost solution to boost competitiveness and reduce cost for businesses.  We have done well in advancing open international trade with our partners but now we need to match this success within Canada. In a time of volatility, heightened by a global pandemic, it's inexplicable to maintain antiquated domestic trade barriers that hurt economic activity and growth.
Letter to Ontario Premier and Trade Minister on Interprovincial Trade Barriers
Read Now
Quick Facts
StatsCan estimates that internal trade costs add nearly 7% to the cost of goods we buy, and this doesn't count the much larger costs facing people like accountants, lawyers, and financial professionals.
The International Monetary Fund (IMF) estimates a 4% lift in real GDP in Canada if internal trade barriers are removed – more than we would gain from recently signed international trade agreements.
A 2019 poll found that nearly 9 in 10 Canadians (87%) think there should be free trade between the provinces "because we are one country."
Only one in five small businesses sells to other provinces.
The focus of businesses on their own digital transformation, including the new adoption of e-commerce platforms, is opening up new market opportunities.
Canada Pakistan Business Council
The Brampton Board of Trade's strategic alliance with the CPBC is the first of many steps to help our members prosper in emerging markets like Pakistan. Recognizing that Brampton is competing in a highly competitive global economy, the Brampton Board of Trade signed a Memorandum of Understanding with the CPBC in early November of 2011 with the goal of promoting mutually beneficial two-way trade between Pakistan and Brampton.
Kocaeli Chamber of Industry
The Brampton Board of Trade signed a Memorandum of Understanding with the Kocaeli Chamber of Industry (KSO) in early May 2015. The purpose of the agreement was to promote mutually beneficial trade between the two parties. The partnership with KSO encourages expansion and diversification of trade between Brampton and Kocaeli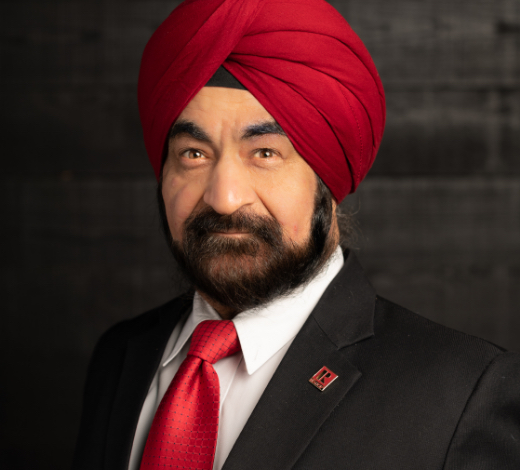 International Trade Advocacy
The Brampton Board of Trade worked to support business interests by reaching out to Federal Party Leaders to encourage them to sign the CUSMA Trade Agreement earlier this year.
Read Now
International Trade Resources
Don't have time to be part of our Network? You can still gain access to the resources we've compiled below.